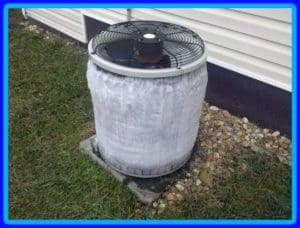 A frozen AC unit isn't something anyone wants to see on a hot summer day. Running your air conditioner while your indoor coil is frozen can also damage your compressor which can end up being a very costly repair. So, what do you do when your AC is frozen?
If your AC isn't cooling like it should and you check your indoor coil and find it frozen, the first thing you want to do is:
Turn your thermostat from 'Cool' to 'Off'
Check your air filter and replace it if it's dirty and clogged
Turn the fan setting to 'On' to run continuously
Monitor the thawing to make sure your condensate pan and condensate line don't overflow or become clogged causing a water leak
This process can take up to 24 hours to complete but make sure your system is completely thawed and dried before you turn your AC on at the thermostat and put your fan setting back to 'Auto'. When you turn your system back on, you want to monitor it for the next few days to ensure your system is cooling properly. If your indoor evaporator coil starts to freeze up again. You should turn your system off at the thermostat and call your trusted HVAC technician.
De Hart Plumbing Heating and Cooling, serving Manhattan Kansas, Junction City Kansas, Wamego Kansas, Topeka Kansas, and some surrounding areas