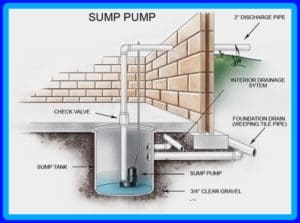 Spring showers are right around the corner! If your home has a sump pump, now is the time to take a look and make sure it's working properly and do a little maintenance. A sump pump that has failed or isn't properly maintained can cause costly damage to your home.
Make sure your sump pump is connected to power.
Test your sump pump by pouring water into the pit. The pump should turn on automatically and start discharging water out of the pit. Your sump pump is activated by a float. If the pump has power and you have poured water into the pit, the float may have become stuck.
Disconnect the sump pump from the power and disconnect the discharge line. Remove the pump from the pit and clean all accessible debris from the unit. If the pit is filled with debris, clean up the area while the pump is removed.
Check and clear the discharge line for blockages that may inhibit the flow of water.
Re-install sump pump back into the pit and connect to power. Then, pour water into the pit to make sure the pump engages and discharges the water.
You should be checking your sump pump annually to ensure it's working properly. Here in Kansas, the best time is early Springtime before heavy rains hit. For all of your sump pump maintenance and installation needs, give us a call at 785-341-4193 and let our highly trained technicians take care of your sump pump needs!
De Hart Plumbing Heating and Cooling, serving Manhattan Kansas, Junction City Kansas, Wamego Kansas, Topeka Kansas, and some surrounding areas